Welcome to Your Overland Park Optometrist Office
The Professional Eyecare Staff at Oak Park Mall genuinely cares for its patients and we are very proud of our professional eye care exams and customer service. If you are in need of an Optometrist Office in Overland Park, KS, we are happy to provide you with a custom contact lens fitting, new prescription eyeglasses and prescription eyeglass adjustment. We provide the highest standard of care and technology for patients with dry eyes, pink eyes, allergies and itchy eyes.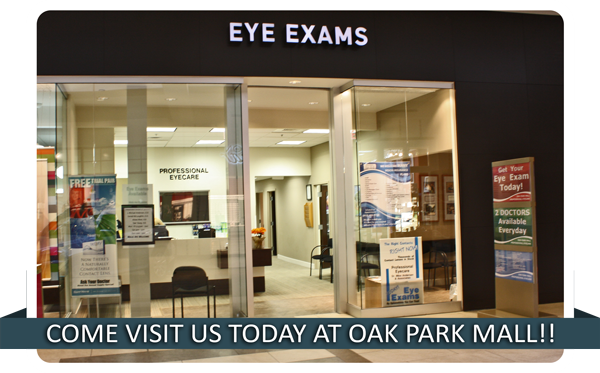 Our optometrist office in Overland Park is committed to meeting all of your eye care needs and to exceed your expectations. Your first step to ensuring healthy vision and taking a role in proactive eye care is in choosing one of the best eye care specialists in Overland Park. Your vision needs are important to you and your family, to your co-workers and safety on the job, so we use state of the art eye exam techniques setting us apart from the rest of the field in vision care. Our staff offers friendly and personalized customer service, making you feel welcome as soon as you walk in the door. Our goal is to deliver the best eye exam in Overland Park today and in the future.
Great Vision, Advice, Technology and Fit
By staying current with the latest developments in eye care and advances in contact lens technology our vision center can provide you with the best vision, advice and fit today—and in the years to come. We take pride in building lasting relationships with our patients, which is why we take the time to get to know you, your vision requirements and your lifestyle needs. Contact our eye care clinic today to find out how we can help.
Aug 13, 2017
What's it like to be color blind? Contrary to what the name implies, color blindness usually does not actually mean...
Jul 26, 2017
On August 21st, for the first time since 1979, a solar eclipse will be visible across North America. What's even...

The Professional Eyecare Staff at Oak Park Mall is proud to offer same day services to those patients with eye emergencies, such as red eyes, eye pain, loss of vision, flashes and floaters. If you have any urgent concerns about your eyes or vision, call our office at 913-492-7728 and we would be happy to schedule an appointment. We take most medical insurance plans.
Great Eye Care in Overland Park, KS
Our optometry practice is located inside Oak Park Mall, down the hall from Nordstrom, right next to Lenscrafters.
Same day appointments and walk-ins are always accepted! We have 2 full-time doctors every day of the week and we are always investing in new technology to benefit our patients! Our eye care experts accept a wide range of medical and vision insurance plans!
Click on an icon to review us online.
We are always interested in improving our patients' experience with Professional Eyecare Oak Park. We welcome your feedback and appreciate your time in helping us find new ways to make our patient services exceed your expectations!
HOURS
Monday:

10:00 am - 7:00 pm

Tuesday:

10:00 am - 7:00 pm

Wednesday:

10:00 am - 7:00 pm

Thursday:

10:00 am - 7:00 pm

Friday:

10:00 am - 7:00 pm

Saturday:

9:00 am - 5:00 pm

Sunday:

11:00 am - 5:00 pm